www.stamning.online presents 65 languages on: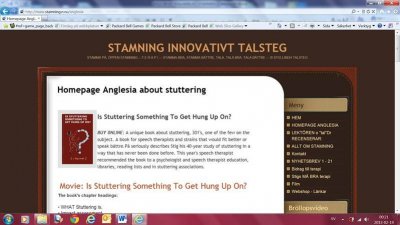 StigLindSpeakingSteps© involving:
Go on stuttering, Front stuttering - T H E R A P Y -   Stutter well, Stutter   better, Speak, Speak   well, Speak better.
HOW DO I LEARN TO   STUTTER?
For the scientific community´s and   others´ contemplation – StigLindSpeakingSteps.   See above board.   The groups that   I want to cut down on are the   groups "Stutter" and "Open   stuttering", groups which in   itself are better than nothing. By that I don´t mean that it must be a   stutter-free speech, loose and easy speech   with repetition is OK. Your muscles need time to recover. Above all,   it is "Stutter well" which   I think has the most potential   for stuttering. The group   probably absorbs some psychosomatic ailments.   My "word workshop" has previously   invented the word "Stutter   nicely", which also cares   for your interests. READ MORE
In Sweden and perhaps in the   world only a few books have   been written about the stuttering, like Wendell Johnson and   Van Riper. Now it is also   mine, which is   slightly different in that it   also refers to the individual   man. It is the result of 40 years of therapy and studies of stuttering theory and in practice.
  
Yours sincerely
  
Stig Lindh, author
NEWSLETTER
Become a "Subscriber"   to my NEWSLETTER. Enter your email address on my website and click the button. It's free. Every second week you will get a   NEWSLETTER. You are welcome to click   on my 72 pages on www.stamning.online
PUBLISHED NEWSLETTER:
 
  All in 2013
 
  NEWSLETTER NO 19 - Mindfulness
 
  NEWSLETTER NO 20   - Giants
 
  NEWSLETTER NO 21   - Stuttering and Drugs
  NEWSLETTER NO 22 - RESEARCH – Speech is golden
  NEWSLETTER NO 23 – Confirmation
  NEWSLETTER NO 24 – Technology in the future
  NEWSLETTER NO 25 – Lucky you
  NEWSLETTER NO 26 - PUBLISHED May 1, 2013
 
 
  All in 2012
 
  NEWSLETTER NO  1 - INNOVATIVE Stuttering
 
  NEWSLETTER NO  2 - Pay Book, get free subscribers Buttons Buy This
 
  NEWSLETTER NO  3 - More resources to the   stuttering, Small tussock. . .
 
  NEWSLETTER NO  4 - Stuttering Association's   role
 
  NEWSLETTER NO  5 - Holidays in the Mediterranean
 
  NEWSLETTER NO  6 - King George VI and his daughter   Queen Elizabeth
 
  NEWSLETTER NO  7 - INNOVATIVE stuttering   is gaining more attention
 
  NEWSLETTER NO  8 - A poor king?
 
  NEWSLETTER NO  9 – Stig´s  FEEL GOOD   therapy
 
  NEWSLETTER NO 10   - Ambitious special project   about stuttering
 
  NEWSLETTER NO 11   - Emotions - cause and effect
 
  NEWSLETTER NO 12   - Therapy for all - preferably free
 
  NEWSLETTER NO 13 - Open House with Dr. Per Alm
 
  NEWSLETTER NO 14   - "QUICK FIX" - Finding the state of fluent speech.
 
  NEWSLETTER NO 15   - RESEARCH: Book about 200 theses
 
  NEWSLETTER NO 16 – StigLindSpeakingSteps
 
  NEWSLETTER NO 17   - What makes stuttering   better?
 
  NEWSLETTER NO 18 - Work or retirement?
NEWSLETTER information does not include any part of the book, "Is Stuttering Something To   Get Hung Up On?" but it´s possible to choose a   translated version of it in 65 DIFFERENT   LANGUAGES for $ 9 as an e-book consisting of 305   pages.